What is JAPHNEI?
The Japan Association of Public Health Nurse Educational Institutions (JAPHNEI) is
an organization that works to ensure the quality of public health nurse education in Japan.
Founding, mission, and activities
Founding
October 1980

Founded

April 2011

Incorporated as a General Incorporated Association
Mission
To improve public health by enhancing public health nurse educational institutions across Japan and enriching public health nursing education.
Activities
Enhance and strengthen public health nurse educational institutions
Serve as a liaison council for public health nurse educational institutions
Train faculty of public health nurse educational institutions
Conduct research on topics such as the system and programs of public health nurse education
Evaluate and accredit educational programs for public health nurses
Collaborate and coordinate with related groups inside and outside Japan
Carry out social impact projects to improve public health and promote healthy living
Perform other tasks required to fulfill our mission
Action plan for 2021
Slogan:
Enriching public health nursing education and improving faculty quality with the aim of ensuring a higher level of education in the science of public health nursing based on nursing education curriculum.
I. Vision
The purpose of this corporation is "contributing to the development of public health education institutions nationwide, the enhancement of public health education, and the improvement of public health." To fulfill this purpose, with consideration of national trends, we will work to ensure the quality of public health nurse licenses by examining the curriculum and education system of public health nurses, verifying educational results, and improving teacher qualifications and the quality of national examination questions. In addition, we will promote activities aimed at enhancing nurse education and adding a higher level of education for public health nurses.
Based on past activity results demonstrating the need for more fulfilling public health nursing education, the Instruction, Curriculum, Education System, and National Examination Committees will work with related organizations to promote the exploration and systematization of public health nursing. In particular, we will enhance systematic training based on faculty career ladders and promote detailed block activities that respond to local issues. Moreover, we will seek to respond more quickly to the issues of member schools in response to social changes due to the progress of computerization and globalization. We will strengthen information transmission from public relations and international affairs committees, and the editorial committees will publish the council magazine "Public Health Nursing Education" to promote the dissemination of information both domestically and overseas. In addition, based on new lifestyle factors in line with measures against COVID-19, we will support member schools by collecting and disseminating information on various educational methods such as distance learning and requests to related institutions and organizations.
II. Committee policy
1. Instruction committee
Plan, implement, and evaluate training sessions for instructors who teach public health nursing
Carry out evaluations and collaborate with blocks to enhance training based on the instructor's career ladder
2. Curriculum committee
Examine technologies in public health nursing
Disseminate the revised version of the public health teacher education evaluation index
3. Education system committee
Develop curriculum-promotion measures to foster practical health nurses through additional education at graduate schools and university
Create a draft standard to evaluate the curriculum after the designated rules are revised
4. National examination committee
Conduct inspections the 108th National Examination Questions and examination venue environment, and make suggestions to the Ministry of Health, Labour and Welfare
Support the dissemination of new questioning standards
5. Public relations and international Affairs committee
Evaluate the website (including the English version) and make effective use of it
Use e-mail newsletters to share information
Promote the recruitment of new members through public relations activities
6. Editorial committee
Issue and publish Volume 5 of the digital journal
Build and operate a smooth peer review system
III. Block activity plan
Based on the social context and trends in public health nurse education, we will share the current situation and issues and conduct training and information exchange to improve the quality of public health nursing education. In addition, we will endeavor to share information and cooperate in activities throughout the country, across blocks, and between schools.
Journal of the Japan Association of Public Health Nurse Educational Institutions
Journal title: Public Health Nursing Education Vol.6 No.1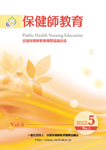 Second publication: May 31, 2022
Language: Japanese
Table of contents (2022, Vol.6. No.1): Foreword, Special Lectures, Project Reports, Committee Activity Reports, Block Activity Reports, Research Article, Activity Report
Journal title: Public Health Nursing Education Vol.5 No.1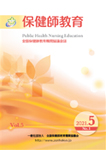 Second publication: May 31, 2021
Language: Japanese
Table of contents (2021, Vol.5. No.1): Foreword, Special Lectures, Project Reports, Committee Activity Reports, Block Activity Reports, Research Article, Activity Report
Journal title: Public Health Nursing Education Vol.4 No.1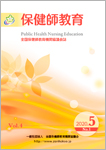 Second publication: May 31, 2020
Language: Japanese
Table of contents (2020, Vol.4. No.1): Foreword, Special Lectures, Project Reports, Committee Activity Reports, Block Activity Reports, Research Article, Activity Report
Journal title: Public Health Nursing Education Vol.3 No.1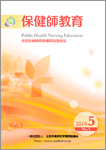 Second publication: May 31, 2019
Language: Japanese
Table of contents (2019, Vol.3. No.1): Foreword, Special Lectures, Project Reports, Committee Activity Reports, Block Activity Reports, Research Article, Activity Report
Journal title: Public Health Nursing Education Vol.2 No.1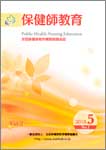 Second publication: May 31, 2018
Language: Japanese
Table of contents (2018, Vol.2. No.1): Foreword, Special Lectures, Project Reports, Committee Activity Reports, Block Activity Reports, Research Article, Activity Report
Journal title: Public Health Nursing Education Vol.1 No.1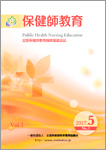 First publication: May 31, 2017
Language: Japanese
Table of contents (2017, Vol.1. No.1): Foreword, Special Lectures, Project Reports, Research Reports, Committee Activity Reports, Block Activity Reports, Association Reports